JMC Wrecker, JMC tow truck, JMC rescue truck
Features:
JMC Wrecker Truck (CLW5041TQZJ4)
Detailed vehicle parameters
Main technical data of JMC Wrecker (CLW5041TQZJ4) products
product name
JMC Wrecker (CLW5041TQZJ4)
Dimensions (mm)
5500x2050x2500
Chassis model
JX1041TG24
Cargo compartment size (mm)
××
Front passenger
Rated passenger (person)
Total mass (kg)
4495
Approach/departure angle (°)
24/14
Rated mass (kg)
Front suspension/rear suspension (mm)
1065/1075
Curb weight (kg)
Maximum speed (km/h)
Emission Standards
Vehicle description
The lifting weight is 265kg, 200kg. The front face of the cab, the front light of the body are optional with the chassis, and the rear lifting device is optional. The left and right sides and the rear lower protection device are the interference of the skirt structure and the protection, so they can be exempted. The side rear lower skirt board and the frame are welded together, the side skirt board height above the ground: 330mm, and the rear group board height above the ground: 370mm.
JMC Wrecker Chassis Parameters
Chassis model
JX1041TG24
Fuel type
diesel fuel
Number of axes
2
Front track (mm)
1385
Wheelbase (mm)
3360
Rear track (mm)
1425
Number of tires
6
Tire specifications
7.00R16LT
Engine parameters of Jiangling wrecker truck
engine model
Engine manufacturer
Displacement (ml)
Power (kw)
JX493ZLQ4
Jiangling Motors Co., Ltd.
2771
80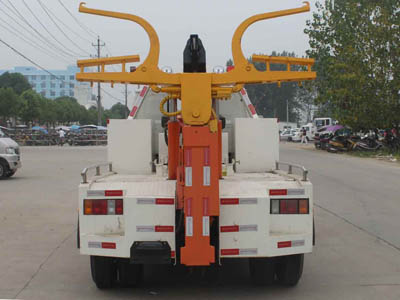 JMC Wrecker, JMC tow truck, JMC rescue truck, JMC motors, JMC emergency truck, JMC rescue vehicle
Welcome to Chengli Special Automobile Co.,Ltd, any questions contact us via: sales@chengli.co