JMC Shunda CLW5042XLCJ5 refrigerated truck
Features:
JMC Shunda CLW5042XLCJ5 Refrigerator Truck Dimensions (mm) 5995*1920*2850 (mm) Product model CLW5042XLCJ5 Cargo compartment size (mm) 3220*1750*1750 (mm)
Detailed vehicle parameters
Main technical data of JMC Shunda double row 3.3m CLW5042XLCJ5 refrigerated truck

product name
JMC Shunda CLW5042XLCJ5 refrigerated truck
Dimensions (mm)
5995×1945,1920,1960×2830,2850(mm)
Product number
CLW5042XLCJ5
Cargo compartment size (mm)
3400,3220×1940,1750×1915,1750(mm)
Front passenger
2+3(people)
Rated passenger (person)
Total mass (kg)
4495kg
Approach/departure angle (°)
27/15(°)
Rated mass (kg)
1350(Kg)
Front suspension/rear suspension (mm)
1065/1570(mm)
Curb weight (kg)
2820kg
Maximum speed (km/h)
100(km/h)
Emission Standards
GB17691-2005 Euro V, GB3847-2005
Vehicle description
This model is the flagship model of Jiangling light truck, with high quality and low price, fuel-efficient and durable! The streamlined front face shape, the whole car is beautiful and cubic, the new Euro 5 emission standard emission, super cost-effective.

Jiangling Chassis has good craftsmanship and matching, and the parts are purchased and shared with Ford's global procurement platform, and the quality is reliable! With 20 years of manufacturing experience, JMC is more suitable for the use of Chinese road conditions, ensuring that 300,000 kilometers will not be overhauled!

Jiangling light trucks have excellent quality, low daily failure rate, good maintenance, long service life, and low comprehensive use cost. Therefore, Jiangling light trucks are very popular in the second-hand car market, and they have more advantages than competing products! Highly recommend this cost-effective refrigerated truck.

Other configurations: displacement of 2.8L, ABS, oil brake, front axle 2 tons and rear axle 5 tons, wheelbase 3360mm, fuel environmental protection, blue card (C certificate can be opened)! highly recommended!
Foton Aoling row half 5.1m refrigerated truck chassis parameters

Chassis model
JX1041TSG25
Fuel type
diesel fuel
Number of axes
2
Front track (mm)
1385
Wheelbase (mm)
3360mm
Rear track (mm)
1425
Number of tires
6
Tire specifications
7.00R16LT steel wire tire
Foton Aoling platoon 5.1m refrigerated truck engine parameters

engine model
Engine manufacturer
Displacement (ml)
Power (kw)

JX493ZLQ5

JX493ZLQ5A

Jiangling Motors Co., Ltd.

Jiangling Motors Co., Ltd.

2771

2771

85

85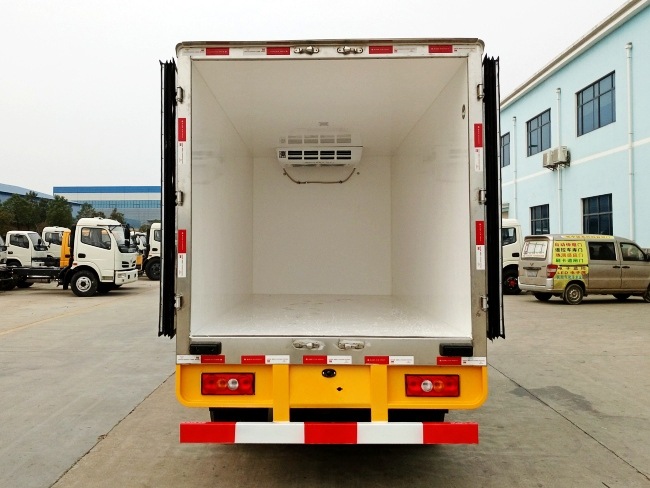 JMC refrigerated truck,  Shunda refrigerated truck, JMC refrigerator truck, JMC reefer truck, JMC reefer van truck
Welcome to Chengli Special Automobile Co.,Ltd, any questions contact us via: sales@chengli.co