JAC Shuaibell refrigerated truck
Features:
JAC Shuaibell refrigerated truck
Detailed vehicle parameters
Main technical data of JAC Shuaibell refrigerated truck

product name
JAC Shuaibell refrigerated truck
Dimensions (mm)
8480*2460*3680mm
Chassis model
HFC5101XXYP71K1D4V
Cargo compartment size (mm)
6200*2220*2300mm
Front passenger
3
Rated passenger (person)
Total mass (kg)
10495(Kg)
Approach/departure angle (°)
28/11
Rated mass (kg)
4795 (Kg)
Front suspension/rear suspension (mm)
1180/2600,1180/2860
Curb weight (kg)
5505 (Kg)
Maximum speed (km/h)
95(km/h)
Emission Standards
Euro 5 emissions/Euro 5
Vehicle description
1. The top of the carriage is closed and cannot be opened. The optional air deflector, optional sunroof, side door spraying can be changed according to local policies; 2. Optional right double-door cargo compartment and non-opening cargo compartment, the material of the cargo compartment can be corrugated board, Iron plate, aluminum plate, color steel plate, optional left and right sides of the cargo box to open the door, optional different door bar types, optional different forms of rear doors (double-opening/three-opening doors) and different forms of door locks, optional swing partitions on the top of the box Plate, optional 30 types of units + chassis on the chassis, optional auxiliary fuel tank when optional independent refrigeration unit, optional hook, optional T-shaped bottom plate, optional cargo compartment pattern according to user needs; 3. Engine ISF3.8s5154, ISF3 .8s5168, JND412D190-52 corresponding fuel consumption declared value (L/100km) is 18.9, 18.8, 18.4; 4. The side and rear lower protective device material is Q235, the connection method is bolt connection, and the rear protective device section size (long ×Width): 120mm×60mm, the height above the ground is 480mm; 5. ABS controller manufacturer/model: ABS 8/Knorr Brake Equipment (Shanghai) Co., Ltd.; 6. Install a driving recorder with satellite positioning function; 7. Optional hydraulic tail plate, the font on the tail plate can be changed according to user needs, the horizontal length of the tail plate in the retracted state is 295mm, and the font on the hydraulic tail plate can be changed according to user needs; 8. Optional front bumper; 9. Optional Mounted side protection, optional rear protection, the optional side and rear lower protection device material is Q235, the connection method is bolt connection, the optional rear protection device section size (length × width): 150mm×70mm height from the ground It is 490mm. 10. Optional front combination headlights with daytime running lights; 11. Optional rearview mirrors of different models along with the chassis.
Chassis parameters of JAC Shuaibell refrigerated truck
Chassis model
HFC5101XXYP71K1D4V
Fuel type
diesel fuel
Number of axes
2
Front track (mm)
1660mm
Wheelbase (mm)
4700mm
Rear track (mm)
1725mm
Number of tires
6
Tire specifications
8.25R20 14PR, 8.25-20 14PR
Engine parameters of JAC Shuaibell refrigerated truck
engine model
Engine manufacturer
Displacement (ml)
Power (kw)

ISF3.8s5154

ISF3.8s5168

JND412D190-52

Beijing Foton Cummins Engine Co., Ltd.

Beijing Foton Cummins Engine Co., Ltd.

Anhui Jianghuai Navistar Diesel Engine Co., Ltd.

3760

3760

4748

115

125

140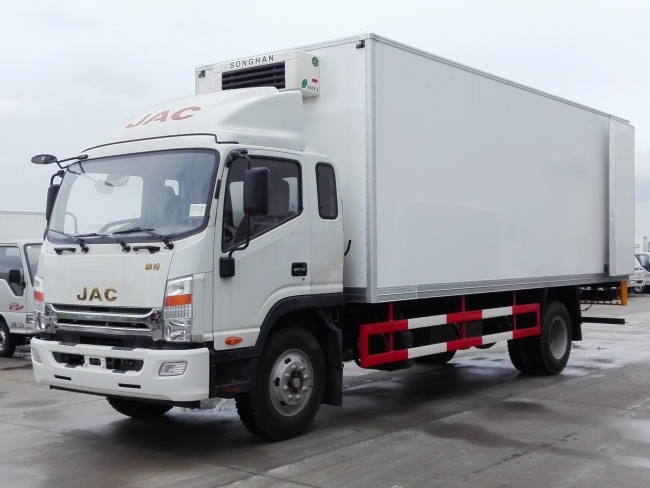 JAC 6 meters refrigerated truck
JAC fresh meat refrigerated truck
Welcome to Chengli Special Automobile Co.,Ltd, any questions contact us via: sales@chengli.co