JAC Junling V5 refrigerated truck Euro VI
The whole vehicle parameters of JAC Junling V5 refrigerated truck

product name
JAC Junling V5 refrigerated truck
Vehicle model
HFC5045XLCP32K2C7S
Outline rule (mm)
5995*2250*3100
Body size (mm)
4030*2010*2000
Rated load (kg)
1100
Top speed (km/h)
100
Total mass (kg)
4495
Fuel type
Diesel oil
Curb weight (kg)
3200
Emission Standards
Euro Six
JAC Junling V5 refrigerated truck chassis parameters
Chassis model
HFC1045P32K2C7S
Chassis brand
JAC
Number of passengers
3
Displacement
2.1L
Wheelbase (mm)
3365
Tire wheel
7.00R16LT 8PR
Number of tires:
6
Gearbox
5 gears
engine model
HFC4DB3-2E
Engine horsepower
95

JAC Junling V5 refrigerated carriage body material

Chassis configuration
Euro VI 130 horsepower 95kw engine, 3365 wheelbase, 5-speed gearbox, 4 ton rear axle, 7.00R16 steel wire tires, air brake, mid-body cab, air-conditioning, rotating, ABS, electric doors and windows, central locking.
Upload configuration
The car body is made of glass fiber reinforced plastic inside and outside, the middle 8CM polyurethane insulation board, the rear double door, the right side of the car body is optional to open the side door, the bottom is made of anti-skid aluminum plate, the front drain hole, the door side strip is made of labyrinth rubber sealing strip, aluminum Alloy profile edging, stainless steel corners, stainless steel door locks, stainless steel door frames and hinges, energy-saving LED lights in the compartment.
Unit brand
Eide, Huatai, Kelly, Kaixue, Hanxue, Lengwang, Carrier and other minus 5-15° refrigeration units.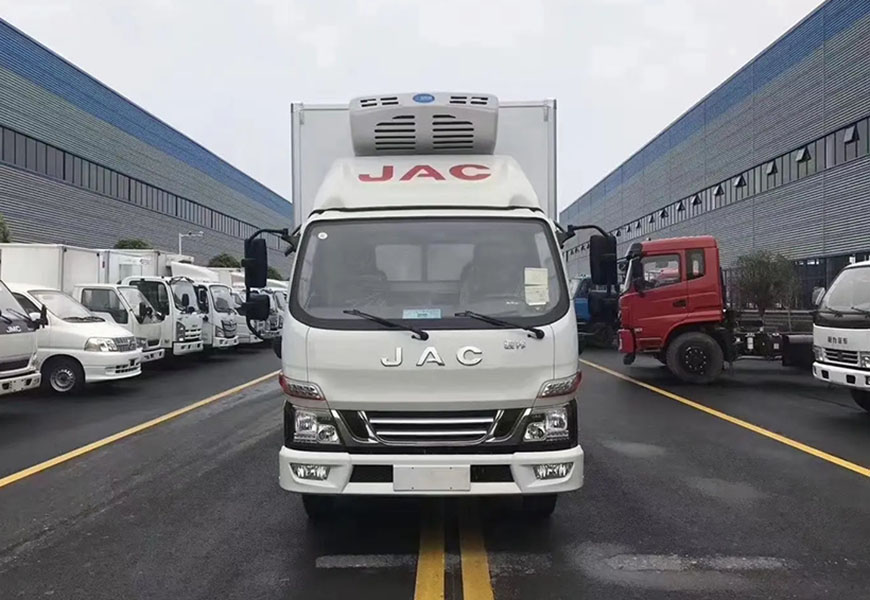 JAC Junling V5 refrigerated truck, JAC Junling refrigerated truck, JAC v5 refrigerated truck, JAC refrigerated truck, JAC reefer truck,
Welcome to Chengli Special Automobile Co.,Ltd, any questions contact us via: sales@chengli.co