JAC Junling 4-5m refrigerated truck
Features:
JAC Junling 5.2m refrigerated truck (HFC5120XLCP91K1C6V) Chassis model HFC1120P91K1C6V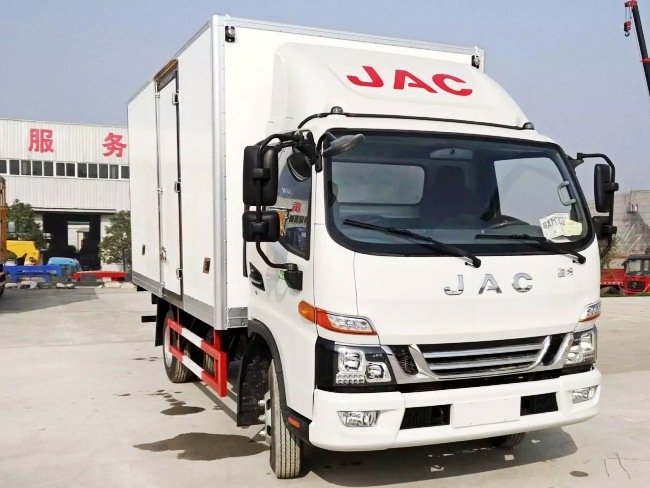 Detailed vehicle parameters
Main technical data of JAC Junling 5.2m refrigerated truck HFC5120XLCP91K1C6V
product name
JAC Junling 5.2m Refrigerated Truck
Dimensions (mm)
7230,7530×2350×3210,3410
Product number
HFC5120XLCP91K1C6V
Cargo compartment size (mm)
5200, 4870×2110×2000, 2200
Front passenger
3
Rated passenger (person)
Total mass (kg)
11995kg
Approach/departure angle (°)
22/15
Rated mass (kg)
7345kg
Front suspension/rear suspension (mm)
1080/2305
Curb weight (kg)
4455kg
Maximum speed (km/h)
95
Emission Standards
GB17691-2005 Euro V, GB3847-2005
Vehicle description
1. The top of the compartment is closed and cannot be opened; 2. Optional right-side single-door cargo compartment and non-opening cargo compartment; 3. Optional semi-cab with chassis, optional front panel, air intake grille, front bumper , Combination lamps, front fog lights, rearview mirror cab; 4. Engine ISF3.8s5154, YNF40E2, YC4S160-50, JND408D157-52, CY4SK251 corresponding fuel consumption declared value (L/100km) is 23.1,23.1, 23.2, 22.9, 23.0; 5. The side and rear lower protective device material is Q235, the connection method is bolt connection, the rear protective device section size (length × width): 120mm×60mm, the height from the ground is 480mm; 6. Optional tail The horizontal length of the board and the tail board in the retracted state is 295mm; after the option is installed, the door is opened, and the side door spraying can be changed according to local policies; 7. Optional refrigeration unit; 8. ABS controller model/manufacturer: ABS 8/Knorr brake Equipment (Shanghai) Co., Ltd.; 9. Optional side protection, optional rear protection, optional rear protection device section size (length × width): 150mm×70mm, height from the ground is 490mm; 10. Optional half-height roof .
Chassis parameters of JAC Junling 5.2m refrigerated truck
Chassis model
HFC1120P91K1C6V
Fuel type
diesel fuel
Number of axes
2
Front track (mm)
Wheelbase (mm)
3845mm
Rear track (mm)
Number of tires
6
Tire specifications
245/70R19.5
Engine parameters of JAC Junling 5.2m refrigerated truck
engine model
Engine manufacturer
Displacement (ml)
Power (kw)

ISF3.8s5154

YNF40E2

YC4S160-50

JND408D157-52

CY4SK251

D30TCIE4

Beijing Foton Cummins Engine Co., Ltd.

Kunming Yunnei Power Co., Ltd.

Guangxi Yuchai Machinery Co., Ltd.

Anhui Jianghuai Navistar Diesel Engine Co., Ltd.

Dongfeng Chaoyang Chaochai Power Co., Ltd.

Kunming Yunnei Power Co., Ltd.

115

115

118

115

115

115

3760

3920

3767

3184

3856

2977
JAC Junling 4m refrigerated truck
JAC Junling 5m refrigerated truck
JAC Junling refrigerated truck, JAC refrigerated truck, JAC freezer refrigerated truck, JAC icecream refrigerated truck, JAC fresh food refrigerated truck,
Welcome to Chengli Special Automobile Co.,Ltd, any questions contact us via: sales@chengli.co