Isuzu double row CLW5043XLCQ5 refrigerated truck
Features:
Isuzu double-row CLW5043XLCQ5 refrigerated truck dimensions (mm) 5995*1930*2870 (mm) Product model CLW5043XLCQ5 cargo compartment size (mm) 3150*1750*1750 (mm)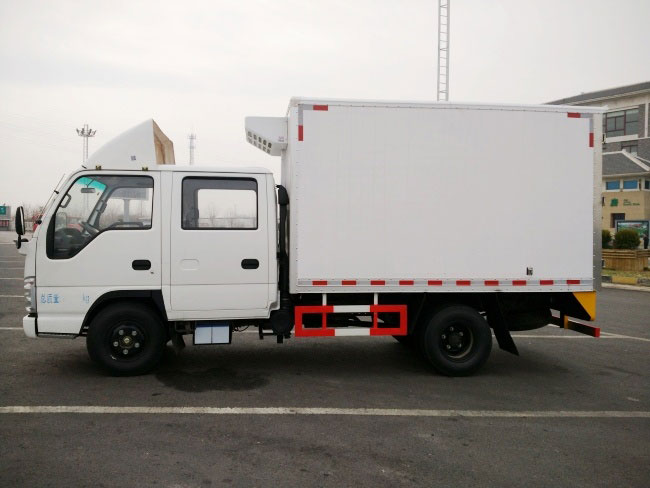 Detailed vehicle parameters
Main technical data of Isuzu double-row CLW5043XLCQ5 refrigerated truck products

product name
Isuzu double row CLW5043XLCQ5 refrigerated truck
Dimensions (mm)
5995*1930*2870 (mm)
Product number
CLW5043XLCQ5
Cargo compartment size (mm)
3150*1750*1750 (mm)
Front passenger
Rated passenger (person)
Total mass (kg)
4495kg
Approach/departure angle (°)
Rated mass (kg)
1495kg
Front suspension/rear suspension (mm)
1015/1620m
Curb weight (kg)
2675kg
Maximum speed (km/h)
98km/h
Emission Standards
Euro 5 emissions/Euro 5
Vehicle description
Qingling Isuzu Euro V emission products have low emissions during the whole life cycle, low fuel consumption, simultaneous improvement of vehicle performance, lower noise, less jitter, and vehicle driving is quieter and more comfortable!

The new 4HK1CN5LS Euro 5 emission engine adopts supercharged and intercooled technology. The engine has the characteristics of strong power, low fuel consumption, reliability and durability. It is more suitable for road use in China. It has strong power, fully optimized power and optimized low-speed output torque, and the vehicle has full load performance and Strong climbing performance. Highly recommended. 1. Chassis configuration: adopt Qingling Isuzu 100P double row non-reversible cab, equipped with Qingling Isuzu 98 horsepower engine, displacement 2.8L, 5-speed manual transmission, front axle 2 tons rear axle 4 tons, wheelbase 3360mm, ABS , Vertical power assist, heating and cooling air conditioning, 7.00R16LT steel wire tires, 7 tires, total mass 4495kg, rated load mass 1495kg, curb weight 2675kg! Blue-branded, Euro 5 emission environmental protection standard models, unlimited travel in the city!

2. Car body configuration: It is manufactured by our company's hydraulic adsorption integrated molding production line, and the thermal insulation performance reaches the national A-level standard. The internal size of the car body is 3150*1750*1750 (mm) and the volume is 9.6 cubic meters. (With thermal insulation fiber layer) (no light absorption, good thermal insulation, strong hardness, anti-oxidation), the thickness of the car body is 80mm, the inner village frame is made of high-quality light steel section of Wuhan Iron and Steel with anti-rust treatment, and the thermal insulation material is non-void filled polyurethane heat insulation The bottom of the car body is made of aluminum alloy checkered plate or optional flat nano glass fiber reinforced plastic. The car body is wrapped with thickened aluminum alloy profiles. The rear door is thickened food grade stainless steel hinges and locks. The interior of the car body uses hidden LEDs. Illumination lamp and outline lamp outside the car body.
3. Optional chillers: Different chillers can be selected according to the customer's car needs, customers can choose -5℃, -10℃, -15℃, -18℃ to -22℃, and the brand of refrigeration units has domestic Kelly , Hanxue, Songhan, Kaixue, Hanya, Huatai, Super Cool, Jinda K brand refrigeration units, imported refrigeration unit brands American Carrier, American Cold King. The refrigeration unit is divided into an independent unit and a split unit! It is recommended that bosses call 138-8686-0982 (Manager Zhang) to recommend a suitable refrigeration unit according to your car needs! This model can be optionally equipped with a "refrigeration + heating" dual temperature unit (the control temperature range is +20°C to -18°C), which can be used in severe cold regions such as Northeast China, Inner Mongolia, Xinjiang, and Tibet!
4. Optional configuration: rail meat hook, T-shaped ventilation slot, open side door on the right side, real-time temperature monitoring with printing device, internal stainless steel material, optional external power supply (when the vehicle is stopped, the car body is cooled by the external power supply) .
Complete vehicle issuance: formal chassis certificate, formal vehicle certificate, formal vehicle purchase tax invoice, national unified vehicle-mounted tools, vehicle warranty manual, vehicle instruction manual, national after-sales service point directory, etc. Let you go home worry-free, convenient and quick!
Foton Aoling row half 5.1m refrigerated truck chassis parameters

Chassis model
QL1040A6HWY
Fuel type
diesel fuel
Number of axes
2
Front track (mm)
1377mm
Wheelbase (mm)
3360mm
Rear track (mm)
1425mm
Number of tires
6
Tire specifications
7.00R16LT steel wire tire
Foton Aoling platoon 5.1m refrigerated truck engine parameters

engine model
Engine manufacturer
Displacement (ml)
Power (kw)
4KH1CN5LS
Qingling Isuzu
2999
72kW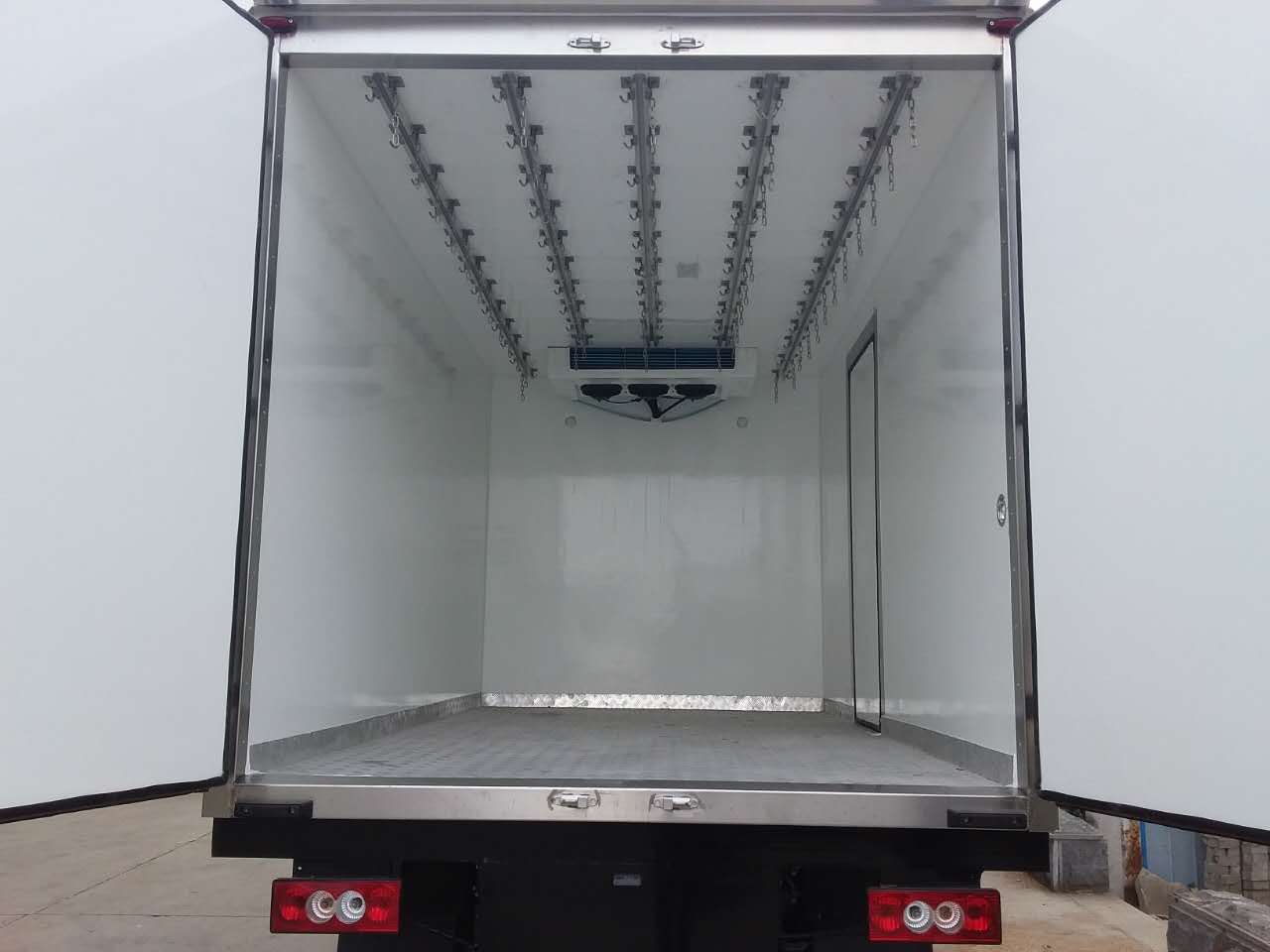 Isuzu double row refrigerated truck, Isuzu 4 doors refrigerated truck, Isuzu refrigerator truck, Isuzu reefer truck, Isuzu fresh food transport truck
Welcome to Chengli Special Automobile Co.,Ltd, any questions contact us via: sales@chengli.co