Heavy howo truck 10 wheels wrecker
Features:
Heavy truck wrecker truck (CLW5250TQZZ5), chassis model ZZ1257N5847E1, emission standard GB17691-2005 Euro V GB3847-2005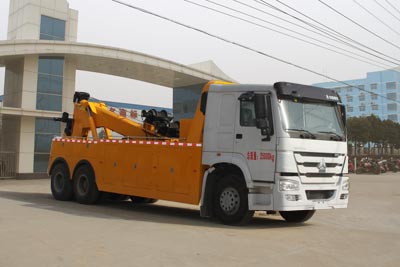 Detailed vehicle parameters
Main technical data of heavy truck wrecker (CLW5250TQZZ5) products
product name
Heavy truck wrecker truck (CLW5250TQZZ5)
Dimensions (mm)
10475,10500,10095,10120×2500×3800
Chassis model
ZZ1257N5847E1
Cargo compartment size (mm)
××
Front passenger
2,3
Rated passenger (person)
Total mass (kg)
25000
Approach/departure angle (°)
14/14,14/12
Rated mass (kg)
Front suspension/rear suspension (mm)
1500/1800,1500/2020
Curb weight (kg)
21000
Maximum speed (km/h)
102
Emission Standards
GB17691-2005 Euro V, GB3847-2005
Vehicle description
The corresponding relationship between the lifting weight (kg) and the number of passengers in the cab (person) is 3870/2,3805/3. The corresponding relationship of vehicle size/rear suspension/wheelbase is (mm): 10475/1800/5825+1350, 10500/1800/5800+1400, 10095/2020/5225+1350, 10120/2020/5200+1400. Protective material: Q235A carbon steel, vertical connection method: the left and right side protective devices are apron structure, which can be exempted; the rear special device interferes with the rear protection, so the rear protection is exempted. ABS model and manufacturer: 4460046300, the manufacturer is WABCO Automotive Control Systems (China) Co., Ltd.
Heavy truck wrecker chassis parameters
Chassis model
ZZ1257N5847E1
Fuel type
diesel fuel
Number of axes
3
Front track (mm)
2022,2041
Wheelbase (mm)
5825+1350,5800+1400,5225+1350,5200+1400
Rear track (mm)
1830/1830
Number of tires
10
Tire specifications
315/80R22.5 18PR/315/80R22.5 14PR, 295/80R22.5 18PR/295/80R22.5 16PR, 12R22.5 18PR/12R22.5 16PR, 12.00R20 16PR/12.00R20 14PR, 11.00R20 18PR/ 11.00R20 16PR, 12.00-20 16PR, 11.00-20
Sinotruk wrecker engine parameters
engine model
Engine manufacturer
Displacement (ml)
Power (kw)
D10.34-50
D10.38-50
D10.28-50
D10.31-50
China Euro Heavy Duty Truck Group Co., Ltd. China Euro Heavy Duty Truck Group Co., Ltd. China Euro Heavy Duty Truck Group Co., Ltd. China Euro Heavy Duty Truck Group Co., Ltd.
9726
9726
9726
9726
249
276
206
228
Heavy  truck 10 wheels wrecker,  howo truck 10 wheels wrecker,  howo truck wrecker, 10 wheels wrecker, howo heavy rescue truck
Welcome to Chengli Special Automobile Co.,Ltd, any questions contact us via: sales@chengli.co