Dongfeng compression garbage truck (CLW5160ZDJT5)
Features:
Dongfeng Compression Garbage Truck (CLW5160ZDJT5) Chassis Model EQ1160GD5DJ Emission Standard GB17691-2005 Euro V GB3847-2005
Detailed vehicle parameters
Main technical data of Dongfeng compression garbage truck (CLW5160ZDJT5)
product name
Dongfeng compression garbage truck (CLW5160ZDJT5)
Dimensions (mm)
7790, 7240, 7600, 7050×2500×3200
Chassis model
EQ1160GD5DJ
Cargo compartment size (mm)
××
Front passenger
3
Rated passenger (person)
Total mass (kg)
15,800
Approach/departure angle (°)
23/16
Rated mass (kg)
7605
Front suspension/rear suspension (mm)
1440/1850,1250/1850
Curb weight (kg)
8000
Maximum speed (km/h)
90
Emission Standards
GB17691-2005 Euro V, GB3847-2005
Vehicle description
1. The corresponding relationship between the vehicle size and the wheelbase is (mm): 7790/4500, 7240/3950, 7600/4500, 7050/3950; the mass change caused by the wheelbase change is within 3%, which is negligible. 2. Protective material: Q235A carbon steel, vertical connection method: the left and right sides and the rear lower protection are all welded together, the rear protective section size (mm): 120×50, the rear protective ground height (mm): 500.3. , ABS model: ABS-E 4S/4M, manufacturer: WABCO Automotive Control Systems (China) Co., Ltd. 4. The position of the text spraying and the color of the vehicle can be changed. 5. The engine's corresponding fuel consumption value (L/100km) is ISD180 50/26.8, YC6JA180-50/27.1, EQH180-52/26.2, ISB210 50/26.5, ISD190 50/26, YC4E160-56/25.8, YC4S150-50/25.7 . Optional exterior and rear exterior styles of the vehicle. 8. The cab is optional with the chassis. 9. Special device: box, mainly used for garbage transfer in compression station.
Chassis parameters of Dongfeng compression garbage truck
Chassis model
EQ1160GD5DJ
Fuel type
Diesel oil
Number of axes
2
Front track (mm)
1900,1880,1810,1940
Wheelbase (mm)
3950, 4500, 5100, 4700, 4200, 5600, 5700
Rear track (mm)
1860,1800,1800,1860
Number of tires
6
Tire specifications
9.00-20 16PR, 10.00-20 16PR, 10.00R20 16PR
Engine parameters of Dongfeng compression garbage truck
engine model
Engine manufacturer
Displacement (ml)
Power (kw)
ISD180 50
YC6JA180-50
ISD190 50
ISB170 50
ISB190 50
ISB210 50
YC4E160-56
YC4S150-50
EQH180-52
WP4.1Q160E50
Dongfeng Cummins Engine Co., Ltd. Guangxi Yuchai Machinery Co., Ltd. Dongfeng Cummins Engine Co., Ltd. Dongfeng Cummins Engine Co., Ltd. Dongfeng Cummins Engine Co., Ltd. Dongfeng Cummins Engine Co., Ltd. Guangxi Yuchai Machinery Co., Ltd. Guangxi Yuchai Machinery Co., Ltd. Dongfeng Commercial Vehicle Co., Ltd. Company Weichai Power Yangzhou Diesel Engine Co., Ltd.
4500
6870
6700
5900
5900
5900
4260
3767
4752
4088
132
132
144
125
140
155
118
110
132
115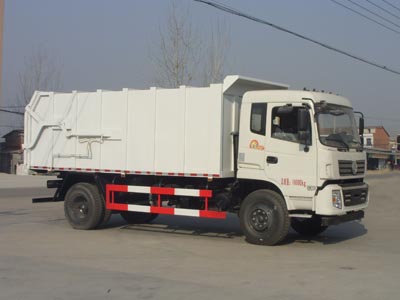 Dongfeng compression garbage truck, Dongfeng garbage truck , Dongfeng compactor garbage truck, China garbage truck , garbage truck factory
Welcome to Chengli Special Automobile Co.,Ltd, any questions contact us via: sales@chengli.co